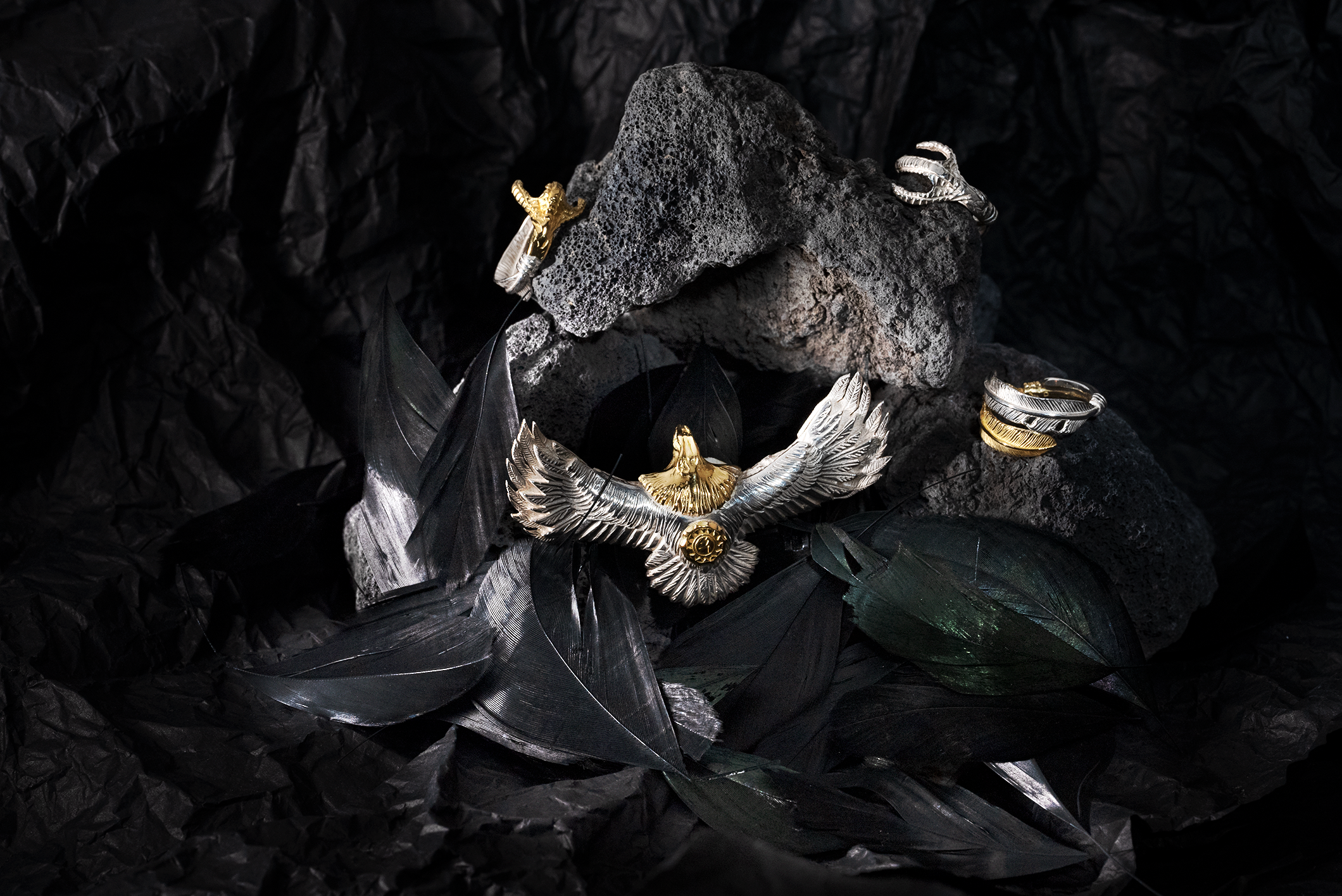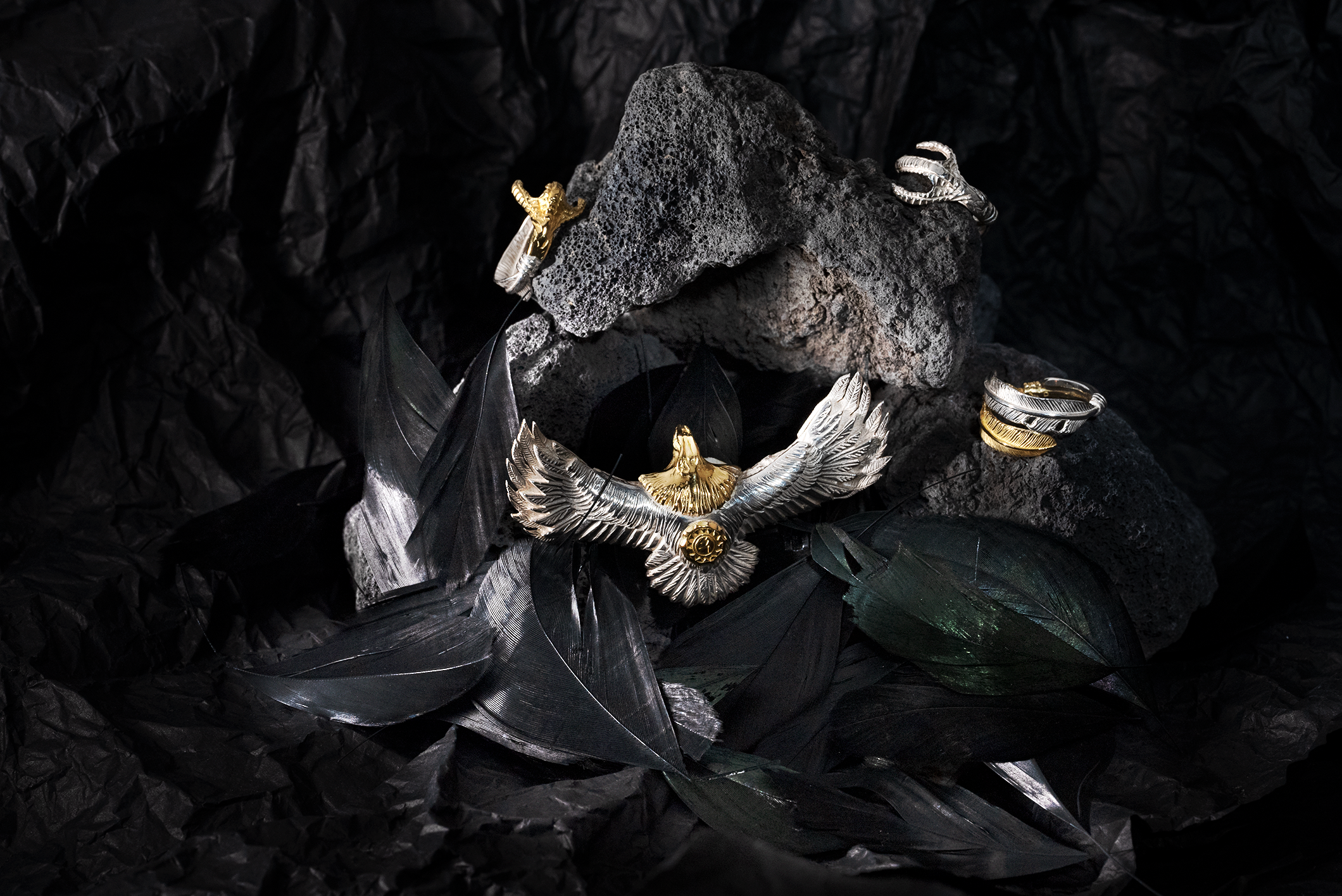 Sunshine studio
UNPARALLELED HANDMADE CARVED SILVER JEWELRY.
.
Sunshine Studio's silver jewelry is meticulously crafted by hand, without the use of molds. Their designs seamlessly blend Native American and Los Angeles West Coast cultures, incorporating materials like turquoise and coral with a strong Indian influence, as well as precious metals like gold and platinum. 
Master artisan Takase then uses his exceptional inlay and overlay techniques to create one-of-a-kind silver jewelry pieces. Some of these exceptional works have even been featured in the book Contemporary Craft in Japan, highlighting their exceptional quality. The design and brand concept of Sunshine Studio perfectly align with Deopuz's "Timeless" concept, making them a must-see for jewelry enthusiasts.
About Gota Takase
A craftsman with unique vision and expertise.
.
Born in Yokohama, Japan, Gota Takase went to Los Angeles in 1988 to pursue his dream of becoming a professional photographer. It was there that he met the master gold and silversmiths Goro and Riki, which sparked his interest in Native Jewelry.
Takase then learned jewelry-making skills from Native American master Ben Nighthorse. In 1995, he obtained the qualification of a certified jewelry appraiser in the U.S. and returned to Japan two years later to establish his studio in Hokan-cho, Okayama Prefecture.
In 2015, Takase said farewell to his long-term residence in the United States and moved to Mimasaka City,Okayama Perferture, to fully enjoy a creative and relaxed lifestyle. As a result, the silver jewelry produced at Sunshine Studio takes at least four months to create, making them even more precious to customers.
About Silver Dollar Craft
The Darling of International Celebrities
.
Silver Dollar Craft was founded in Shimokitazawa, Tokyo, and now has a history of nearly 40 years. The current designer and creator is the second-generation owner, Akihiro Chiba.The studio's works feature rich Native American characteristics and are entirely handmade. Silver Dollar Craft's exceptional works are loved by many celebrities, including Johnny Depp and Yōsuke Kubozuka.
.
.
About Akihiro Chiba
The second-generation owner who surpasses the first, like blue comes from indigo.
.
From a young age, Akihiro Chiba witnessed his master, the first-generation silversmith of Silver Dollar Craft,handcrafting silver jewelry.
He gradually learned various techniques for jewelry and metalworking through this exposure. In addition, he incorporated the Japanese traditional carving technique of arabesque patterns into his own works, taking Silver Dollar Craft to the next level.
.
.
About ROAD
Essential For Car and Motorcycle Enthusiasts
.
For those who love cars and motorcycles, ROAD is a must-have brand. Its story began in a private workshop in Tokyo, where a Hot Rod was kept, fully embodying the influence of American car culture on the brand. During a time when car culture was rare, the Hot Rod was like a refreshing rain after a long drought, bringing endless joy to car enthusiasts.ROAD's accessories often feature car themes that naturally complement the appearance of a motorcyclist. Consequently, these products have frequently appeared in highly-regarded Japanese magazines like Flywheels Magazine, and are adored by motorcycle ethusiasts all over.
About Masayuki Kawamura
A car enthusiast with a unique taste
.
Masayuki Kawamura developed an interest in car culture, art, and fashion when he was in his teenage. At the age of 19, he discovered Native American-style jewelry and began metal-carving training in 1999. He reinterpreted American culture such as Lowbrow Art, Hot Rod, and Chopper, incorporating automotive culture elements and satirical commentary on current events into his work. His creations break free from traditional jewelry frameworks and are not limited by them.
.
About MAD CULT
MAD CULT was founded in 2005 with a core focus on rock music, heavy metal, and motorcycle culture. The products are designed to reflect the human psyche in the face of emotions and desires, and are presented through the deepest embodiment of humanity - the skull. Of course,MAD CULT also offers a variety of products that combine skull culture, such as rabbit and snake motifs.